Frederic Agenor (1927-1992)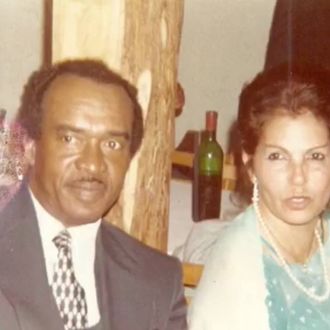 Former minister of Agriculture of the republic of Haiti & former Diplomat at the United Nations
Role model and Father of Ronald, Frédéric Agénor is endowed with a vast scientific culture in the Rabelaisian sense of the term. But despite the extent and variety of his knowledge, Frederic had like a "virus" with this taste of always continuing to learn in order to improve at every moment of his life. 
Married to Rolande Michel Agenor, Frédéric Agénor was born on October 2, 1927 in Leogane, in the Republic of Haiti and became the father of six children. He entered school and in 1948, and obtained his BA degree in French language and Literature (Bac II Lettres) at the Fathers of the Holy Spirit College, after having followed from 1935 to 1946, primary and secondary studies, supplemented by a BA degree in Latin & Greek Languages (Bac I Lettres Latin & Grec) in 1947. Since that time, Frédéric Agénor has not only continued to pursue studies throughout the world in prestigious Grandes Ecoles and Universities such as the National School of Aviculture in Rambouillet (France), Zollikofen (Bern, Switzerland ), the National Zootechnical Research Center (INRA, Jouy-en-Josas, France), and the University of Pennsylvania (UPenn, USA). 
After having been a scholarship holder for a year from the F.A.O (Food and Agriculture Organization of the United Nations), he then held your high office. Recognized expert of this organization, he has, as a result, accomplished several international missions, and in whose name he also played a leading role. From 1974 to 1979, he was Principal Advisor then Director of the Poultry Development Project in Lubumbashi, Shaba (Zaire), then Coordinator, from May to September 1979, of the Emergency Livestock Safeguarding Mission in Nouakchott/Kadi (Mauritania), and Special Rapporteur, in September 1963, at the First World Conference of the European Federation of Animal Science in Rome, Italy. 
In Port-au-Prince where he does not pass for an unknown, this athletic, talented, and competent man (played soccer as a goalkeeper of the St Louis de Gonzague soccer team, boxing, horse, tennis) will have assumed more of a function in his country Haiti, and in the name of this one, also carries out prestigious international missions. 
Indeed, he was already in September 1958, Official Delegate of Haiti, Mexico, at the XIth World Congress of Poultry Science. Finally in an 84-page dissertation defended at the University of Bordeaux I (Food Sciences) under the high patronage of the Ministry of Agriculture, Natural Resources and Rural Development, he highlighted the competence of the Ingenious Haitians. He has done excellent research useful to the training of executives and to the work of farmers and producers in Haiti. Work for which he received the mention Tres Bien for obtaining his D.E.S. The least of his merits, however, was that of having been Minister of the said Ministry, from September 1988 to December 1989. To this we must also add that he is Professor of Animal Production at the F.A.M.V. and that he has seen his efforts rewarded with official recognition: Mr Frédéric Agénor is the recipient of the National Honor and Merit Decoration "Grand Croix" of the Republic of Haiti. 
Marié a Rolande Michel Agénor, Frédéric Agénor est né le 2 Octobre 1927 à Léogane, en République d'Haiti et devient père de six enfants. Entré à l'école il obtint en 1948, chez les Pères du Saint-Esprit, son Bac II en Lettres, après avoir suivi de 1935 à 1946, les études primaires et secondaires, complétées par le Bac I Lettres (Latin et Grec) en 1947. Depuis cette époque, Frédéric Agénor n'a cessé de poursuivre de par le monde, des études dans de prestigieuses grandes Ecoles et Universités comme l'Ecole Nationale d'Aviculture de Rambouillet (France), de Zollikofen (Berne, Suisse), le Centre National de Recherches Zootechniques (INRA, Jouy-en-Josas, France), et l'Université de Pennsylvanie (UPenn, USA). 
Apres avoir été boursier pendant un an de la F.A.O (Organisation des Nations Unies pour l'Alimentation et l'Agriculture), il a par la suite occupé de tres hautes fonctions. Expert reconnu de cette organisation, il a, de ce fait, accompli plusieurs missions internationales, et au nom desquelles aussi il joua un rôle de premier rang. De 1974 à 1979, il a été le Conseiller Principal puis Directeur du Projet de Development de l'Aviculture à Lubumbashi, au Shaba (Zaire), ensuite Coordinateur, de Mai à Septembre 1979, de la Mission d'Urgence de Sauvegarde du Bétail à Nouakchott/Kadi (Mauritanie), et Rapporteur Particulier, en Septembre 1963, a la Première Conférence Mondiale de la Fédération Européenne de Zootechnie à Rome, Italie. 
A Port-au-Prince où il ne passe pas pour un inconnu, cet homme sportif, talentueux, et compétent (Footballeur en tant que Gardien de but de l'Equipe de St Louis de Gonzague, Boxeur, Cheval, Tennis) aura assumé plus d'une fonction dans son pays Haiti, et au nom de celui-ci, effectue aussi des missions internationales prestigieuses. 
En effet, il a été en Septembre 1958 déjà, Délégué  Officiel d'Haiti, au Mexique, au XIème Congrès Mondial de la Science Avicole. Enfin dans un mémoire de 84 pages soutenu à l'université de Bordeaux I (Sciences des Aliments) sous le haut patronage du Ministère de l'Agriculture des Resources Naturelles et du Development Rural, il a mis en valeur la compétence des Ingénieurs Haitiens. Il a fait une excellente recherche utile à la formation des cadres et aux travaux des exploitants et des producteurs d'Haiti. Travail pour lequel il a reçu la mention "Tres Bien" pour l'obtention de son D.E.S. Le moindre de ses mérites n'a pas été cependant celui d'avoir été Ministre dudit Ministère, de Septembre 1988 a Décembre 1989. A cela il faut ajouter aussi qu'il est Professeur de Production Animale a la F.A.M.V. et qu'il a vu ses efforts récompensés par une reconnaissance officielle: Mr Frédéric Agénor est récipiendaire de la Décoration Nationale Honneur et Mérite de la République d'Haïti.