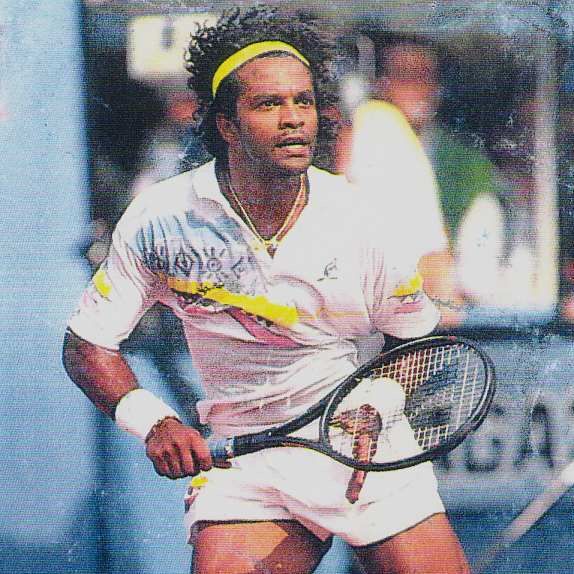 Ronald Agenor
"The Haitian Sensation"
Formerly world ranked #22 in singles and #111 in doubles on the ATP Tour, 1/4 finalist at the French Open in 1989, 4th round at the US Open and French Open 1988, Winner of 3 ATP World Tour Events, Winner of 5 ATP Challengers, & Gold Medalist at the Central American & Caribbean Games in 1982.
RONALD AGENOR  
Former ATP World Tennis Singles #22 & Doubles #111 
International Tennis Consultant - President Strings Sports & Entertainment 
Peace & Sport Ambassador - Guitarist/Songwriter 
Pro Am - Tennis Exhibition - Speaking Media/Engagements - Special Events
Early Life & Junior Tennis 
Nicknamed « The Haitian Sensation », Ronald Agénor was born on November 13, 1964 in Rabat, Morocco, the son of Frédéric Agénor, a former Haitian Diplomat at the United Nations and Minister of Agriculture of Haiti and Rolande Agenor. He is the youngest of a family of six children and learned how to play tennis in Lubumbashi, Zaire (current Congo) in 1974 and discovered competitive tennis in Bordeaux, France in 1978 under the wing of his brother, Lionel. He was ranked No. 8 junior player in the world in 1982 and won 2 Junior titles Charleroi, Belgium and Monte Carlo, Monaco. 
Pro Tennis Career 
Ronald joined the professional tennis circuit in 1983. In 1989 He reached the quarterfinals of the French Open where he was defeated by eventual-champion Michael Chang in four sets, and won his first top-level singles title at Athens. In 1990, Agénor won two further tour singles titles at Berlin and Genoa and has sustained one of the longest careers in the history of the game (19 years) scoring wins against the world's greatest players such as Agassi, Connors, Vilas, Noah, Higueras, Wilander, Stich, Korda, Muster, Sanchez, Gilbert, Annacone, Rosset, Leconte, Forget, Curren, and Cash, just to name a few. He competed in three Summer Olympic Games, in 1984 (a demonstration event), 1988, and 1996. In 1999, Ronald finished the year ranked World No. 98 and became the first player aged over 35 to finish in the top-100 since Jimmy Connors in 1992. 
In a career spanning 19 years, he reached the quarter finals at the French Open in 1989 by beating Carl Limberger, Tim Mayotte, Claudio Pistolesi and Sergi Bruguera before losing to champion Michael Chang. He also got to the fourth round of both the US Open and French Open in 1988. He represented Haiti in the Olympics in Los Angeles in 1984, in Seoul in 1988, and in Atlanta in 1996 and won 3 ATP Tour World titles in Athens, Genoa, and Berlin. At the French Open in 1994, he defeated David Prinosil, 14/12 in the fifth set and broke the previous record of the longest match in the number of games in the history of the French Open since the open era previously held by Emilio Sanchez. In 1987, his final at the Swiss Indoors against Yannick Noah from France, was the first ATP World Tour tennis final between two players of color in men's professional tennis history. After a break from the pro circuit, Agénor made a comeback in 1999 becoming, at 35 years of age, the oldest player to reach top 100 (ATP ranked #88) in the world since Jimmy Connors did it in 1991. In 2000, he represented and led the Lido Luzern Tennis Club in Switzerland to its first Swiss National title in 100 years. In 2001, at 37 years of age, he finished the year ATP ranked #186 appearing in a final against David Nalbandian from Argentina. He retired from professional tennis in 2002 and opened the Ronald Agenor Tennis Academy in Los Angeles, California.
More
Ronald married former international print and runway Model, Tonya, and has two daughters. Sascha & Chloe. He is also an ambassador for Peace and Sport, an organization under the High Patronage of Prince Albert II of Monaco. In 2006, the city of Castelnau de Médoc, in wine country region of Bordeaux in France, named its newly built tennis facility after Ronald. Recently, he was inducted into the Black Tennis Hall of Fame in a ceremony held at George Washington University, in Washington DC. Ronald is available for Tennis Coaching, Tennis Clinics, Tennis Exhibitions, Corporate Appearances, Speaking/Media Engagements, Broadcasting, Endorsements, Charity Events, as well as competing in the Legends Tour & the ITF/USTA Senior Tour. Ronald is also a passionate musician and has been playing the guitar since the age of 15, his latest album released in 2022 "Cordes De Vie" (Strings of Life) is available for preview download on the store page and most digital music platforms.
Career Highlights
Turned Pro: 1983 
Wins Against World's Greatest: Andre Agassi (3 times), Jimmy Connors, Yannick Noah, Brad Gilbert, Mats Wilander, Todd Martin, Michael Stich, Thomas Muster, Wayne ferreira, Jose Higueras, Guillermo Vilas, Henri Leconte, Andres Gomez, Aaron Krickstein, Tim Mayotte, Sergi Bruguera, Guy Forget, Thierry Tulasne, Emilio Sanchez, Fernando Vicente, Javier Sanchez, Andrea Gaudenzi, Andrei Medvedev, Paul Annacone, Peter Korda, Marc Rosset, Tarik Benhabilès, Tim Mayotte, Carl Uwe Steeb, and many more... 
Grand Slams: Quarter finals at the French Open 1989, 4th round at the French Open & Us Open 1988, 3rd round French Open 1994, 3rd round Us Open 1989 
ATP Tour Events: 3 Titles, Athens 1989, Genova & Berlin 1990, 5 ATP Tour Finals, Bordeaux 1987 & 1988, Gstaad, 1987, Basel, 1987, and Bastad, 1993. 
Challengers: 8 Titles 
Juniors: 2 Titles, Charleroi, Belgium, Monte Calo, Monaco, Semi finalist at the Orange Bowl 18's, 1982. Ranked number 8 in the world junior rankings 1982 
Olympics: Represented Haiti at : Los Angeles 1984, Seoul 1988, Atlanta 1996 
French Open Record: Broke the record of the longest match in the history of the French Open in the number of games (71) since the open era defeating David Prinosil in a 5 set and 5 hour marathon match 
Coaches:
Lionel Agenor (7 years), Ernesto Ruiz-Bry, Tiburce Darrou, Victor Desgrottes, Luc Pausicles
More Stories: 
- Sustained one of the longest careers in Men's Professional Tennis with 19 years 
- In 1999 became at 35 years of age the oldest player since Jimmy Connors in 1991 to finish the year in the top 100 
- Played against Yannick Noah in Basel, Switzerland, in what would become the 1st final between 2 Black Male tennis players in the history of Men's professional tennis 
- 2000 Team National Swiss Champion with Lido Luzern 
- Recorded the second fastest serve of the year in 1991 (207 kmh) 
- Climbed from #451 to #47 in the world rankings in 1 year in 1985 
- During his career, Ronald played for the Tennis Club Bordelais, Stade Bordelais Université Club, Société Athlétique Villa Primerose and St Médard En Jalles, Tennis Club Lido Luzern, & TC Rheinachheide
- 2018 Swiss Team +45 Champion with TC Rheinachheide
- USPTA P1 Certified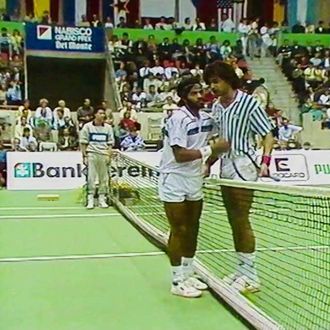 Ronald vs Noah 1987
Tennis History
In 1987 Ronald made history in Basel, Switzerland, by playing against Frenchman Yannick Noah in what would be the first ATP final between 2 men of color in the history of Men's Professional tennis. In 2018 Ronald was inducted into the Black Tennis Hall of Fame at George Washington University, in Washington DC.