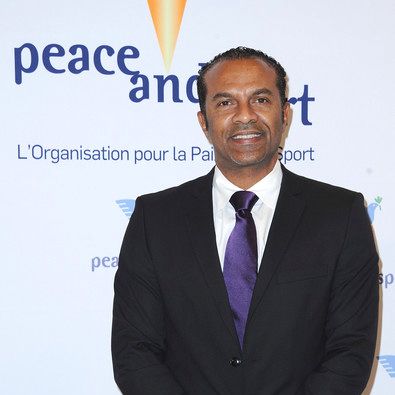 CHAMPION FOR PEACE
Ronald, is member of the 'Champions for Peace' club, a group of more than 90 famous elite athletes created by Peace and Sport, a Monaco-based international organization placed under the High Patronage of H.S.H Prince Albert II. This group of top level champions wish to make sport a tool for dialogue and social cohesion. As a Champion for Peace, he is an assiduous ambassador of the #WhiteCard campaign.
Peace and Sport is an international, neutral and independent organization based in Monaco, which promotes peace using the power of sport. Founded in 2007 by Modern Pentathlon Olympic Medallist and World Champion Joël Bouzou, Peace and Sport is placed under the High Patronage of H.S.H. Prince Albert II of Monaco.
Universal, and popular with youth, sport constitutes an answer to the progression of conflicts by bringing communities together. If it is used with the right intention to achieve life skills objectives, in an appropriate setting and by qualified educators, sport can contribute to building peace. 
Peace and Sport calls on international decision-makers to deploy the intentional use of sport as a tool for transmitting values for peace, relying on its universality, on its role models and on field actors trained with the day-to-day needs. 
Using a bottom-up approach based on 15 years of experience and with the realities of the field, Peace and Sport puts forward solutions adapted to the challenges faced at the community level, in order to develop high-impact programs that use sport to build peaceful, inclusive and equitable communities. 
The culture of peace is a set of values, attitudes, behaviors and lifestyles that inspire social interactions, avoid violence and prevent conflict, by putting the focus on dialogue and negotiation among individuals, groups and states (UN Resolution A/RES/52/13). 
Sport for peace refers to the intentional use of sport to achieve specific objectives to build a culture of peace, through the transmission of values, attitudes and behaviors that inspire social interaction and sharing.